What is the meaning of certifications under CPD membership? What are the CPD certifications that are available? How can I earn those?
At CHRMP, we offer CPD (Continuing Professional Development) certifications to provide recognition and credentials for your learning journeys. These certifications serve as valuable proof of your expertise in specific subjects and enhance your professional credibility in the HR domain.
To earn CPD certifications, follow these simple steps:


Visit the page: Head over to

https://membership.chrmp.com/cpd-credentials/

to explore the available learning paths and certifications.



Choose a learning path: Select the learning path that aligns with your interests and career goals. Each learning path is designed to equip you with in-depth knowledge and practical skills in a particular HR domain.

Go through the videos: Engage with the self-paced video content included in your CPD Membership. Dive deep into the subject matter and gain valuable insights from industry experts.

Purchase the proof of competency toolkit: To prepare for the certification exam, you have the option to purchase the proof of competency toolkit. This toolkit provides additional resources and practice materials to help you solidify your understanding and boost your confidence for the exam.

Write the secure exam through Mercer Mettl: Once you feel ready, register for the secure certification exam conducted through Mercer Mettl platorm, our trusted examination partner. This exam is designed to assess your knowledge and application of the concepts covered in the learning path.

There are 30 MCQs to be answered in 45 minutes in these exams.



Pass the exam and get your Blockchain verified digital credential: Upon successfully passing the exam, you will receive a digital credential that is verified and secured using Blockchain technology. This digital credential serves as tangible proof of your achievement and expertise in the subject.

You must get a passing score of 60% in the respective exam to earn your credential

.

Share your credential on LinkedIn and everywhere: Now that you have earned your CPD certification, showcase your accomplishment by sharing your digital credential on professional platforms like LinkedIn and other relevant networks. This allows you to highlight your skills and commitment to continuous learning to potential employers and peers.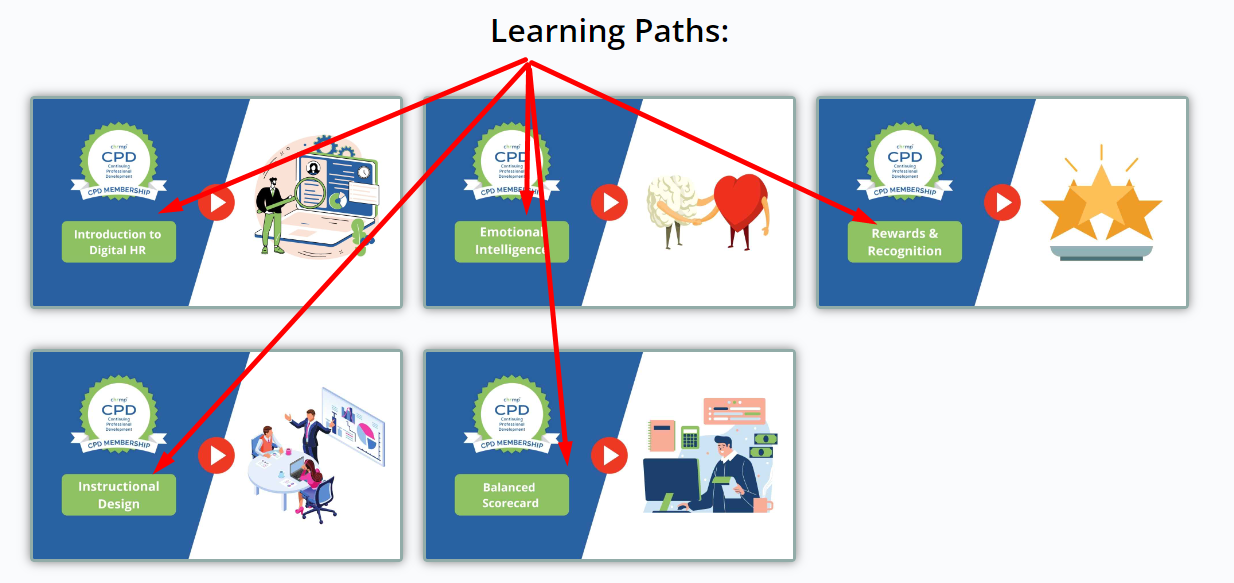 At CHRMP, we are committed to supporting your professional growth and providing you with opportunities to gain recognition for your expertise in HR. Our CPD certifications are designed to empower you with the knowledge and credentials to excel in your HR career. So, explore the available learning paths, embark on your CPD journey, and earn certifications that will unlock new doors of success in your HR endeavors. Happy learning and best of luck on your certification journey!
Related Articles

How do I see the various plans and pricing options for the CPD membership? How can I buy the CPD Membership online?

To see the various plan and pricing options available for the CPD membership, visit https://chrmp.com/ and then click on CPD Membership. Click on 'Plan & Pricing'. Weigh the options and choose the plan according to your needs. Once you have made a ...

What is CPD Membership?

CHRMP CPD Membership is an exclusive offering designed to empower HR professionals across industries with a wealth of updated resources and support in all aspects of HR. By becoming a CPD Member, you gain access to a range of benefits and ...

How will my CPD membership get activated?

Congratulations on becoming a valued member of the CHRMP CPD Membership! We are excited to have you on board, and we want to ensure that your membership activation is a seamless and delightful experience. As soon as you complete the purchase of your ...

How can I buy the CPD enterprise membership?

Purchasing the CPD Enterprise Membership is a straightforward process, designed to cater to the specific needs of organizations seeking comprehensive HR development solutions. To acquire the CPD Enterprise Membership, follow these simple steps: Visit ...

What are the various benefits of CPD Membership?

CHRMP CPD Membership offers a wide range of exclusive benefits designed to empower HR professionals with continuous learning, networking opportunities, and access to valuable resources. By becoming a CPD Member, you gain access to the following ...